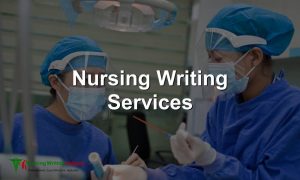 We have a reliable team of Nursing Writers who have experience in writing papers either the BSN, DPN, DNP, BNSc, PICO, and many more. Nursing is an essential career with a strong impact on healthcare. Writing a nursing paper requires an in-depth understanding of the subject and presence of mind. The many demands on students studying nursing at times make it impossible to write a high standard paper that their institutions demand. It is a reason to get professional nursing writing help online. Nursing Writing Helpers is the right writing company when you want nursing writing help with a professional touch.
  Why Choose Our Professional Nursing Writers 
 Mastery of the Subject 
We are a custom nursing writing company standing out because we have specialists and general writers. Each has a background in nursing.  Each holds at least a master's degree in an area of nursing, but we also have those with Ph.D. degrees.
The training of our nursing writers gives them a broad understanding of the subject even before researching to get more information. We go a step better by using the specialty of a writer in nursing as a criterion for assigning orders. For instance, if you require a paper on gerontology, your writer will be someone specializing in gerontology nursing. 
Understanding of Formal Writing Guidelines 
Our writers possess a thorough understanding of sentence structure and grammar. Both are essential when writing scholarly work.  They adhere to rules of grammar, punctuation, and sentence structure.  The nursing paper writers set a higher standard of writing than in other forms of writing without straying from any grammar requirements since it might water down even the most fantastic content. 
 Adherence to Instructions 
Writing ability is essential, but it is more critical to understand and follow guidelines. It shows the professors that there is an understanding of writing guidelines and prevents the deduction of marks for failing to follow the rules. It also eliminates the need for frequent rewrites when a paper fails to meet writing guidelines. For instance, if the order instruction is to use APA referencing style, the writer will not use MLA anywhere. Our nursing writers also follow the writing guidelines on the type of English, spacing, and page count. 
 Commitment to Research 
Our nursing paper writers might be subject specialists but respect the fact that an academic paper is not about unsupported opinions. We assign you a writer who has the will and time to find more information on the topic from current sources.  Luckily our writers know of many sources. The variety enables them to pick the best from each source.  All our writers allocate adequate time to find information that becomes credible evidence for supporting arguments in a paper and make it detailed as possible.
 Writing from Scratch 
We do not tolerate plagiarism, just like the nursing schools. Our nursing paper writing experts have a high degree of professionalism.  They do not dare plagiarize work by other writers since they know it will ruin academic careers and trust with clients.  We follow the citation rules to accredit the writer of the original content. 
Your writer will also take time to paraphrase words to prevent instances of unintentional plagiarism by using similar words but forgetting to cite. We complement the commitment to originality by using efficient plagiarism checkers to determine originality status before delivery.  The tests show that our writers make every effort to avoid plagiarism.
 Ability to Meet Deadlines
Punctuality is essential in submitting academic assignments.  Our BSN nursing writers always work within the timeline on the order form and complete orders before the deadline.  A writer accepts an order when he or she has enough time to write up to the end without delays that might cause lateness. They communicate early enough might there be a reason to delay order delivery, although this is a rare happening.
 Free Revisions 
 Every writer commits to revise any sections in a nursing assignment that might have to contain errors. In case they fail to follow guidelines or have an issue that dissatisfies a client. They make all the necessary amendments until the complete satisfaction of the customer. Writers at Nursing Writing Helpers are an essential asset as they write high-standard work, helping our clients to achieve high grades.